Bankso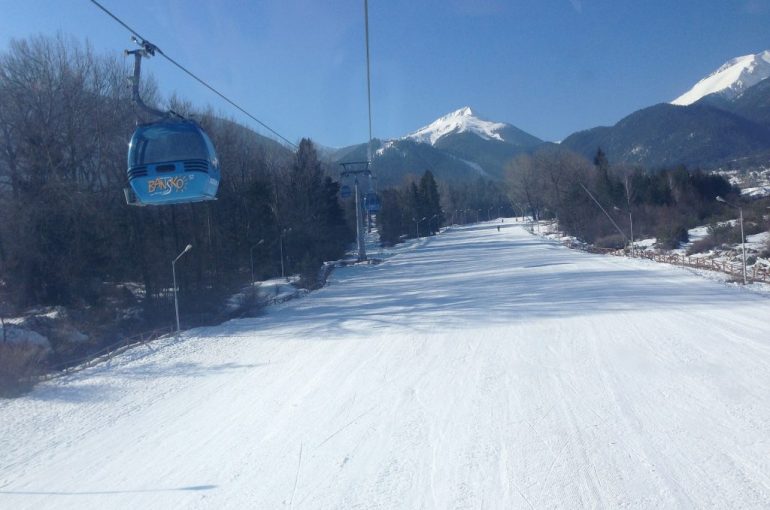 Bansko Bulgaria

Here at FD Capital we don't just think about Accountancy and work, we also have interests like everyone else, and skiing is one of those!
Bansko is a popular ski resort town in southwestern Bulgaria within the Pirin Mountain range at an elevation of 1,200m. I went for the first time skiing in Bankso Bulgaria over the Xmas week last year 2018. Previously I've skied all around Europe and a lot in North America, so I really did not know what to expect from Bankso – but it was really good, the resort felt friendly, there was good Apres ski and some good attractions for our young kids.
The resort has won awards including the the Winner of World Ski Awards,Best Ski Resort In Bulgaria, from 2013 to 2019. Bansko offers 75km of uninterrupted ski runs, great snow conditions and a unique combination of a modern ski resort and a historic town with an good choice of apres ski bars, restaurants and activities.
The price – well trust an accountant to want to talk about price first, but really this is the big difference you see with Bansko, I went with a family of four, two adults two kids and the total price for a four star hotel including ski hire and lift passes, half board including flights and transfer was £1,589! Yep that is almost £3,000 less than I paid (overpaid) for an equivalent trip to Meribel.
Our hotel was a really good standard with apartment style rooms and a large heated swimming pool. We stayed over xmas week and the food was good, the hotel from being empty on the first night, we were the first guests that season to arrive and this was a large hotel maybe 300 bedrooms, soon filled and was close to being full by the end of the week.  When I mean empty on arrival all lights were out and all doors locked, it honestly appeared that the hotel was closed and wasn't even open for the season, but after a few minutes of waiting around someone came to the door, welcomed us and explained that we were the first guest of the season!
Bansko
Skiing was somewhat limited I have to admit, but given that my two kids are not very experienced skiers, they really enjoyed the green and blue runs. There is a only a single gondolla up the mountain which whilst no issue on the first days of our holiday quickly became a limiting factor meaning we needed to get up early and miss the queues. 
The Gondola takes you to the Bansko ski centre, which is situated approximately 12km away from town. The ski center has 70km of marked ski runs and 9km of cross country tracks that have been extensively cultivated. More than 80% of the slopes are covered by snow cannons and all runs are groomed by slope maintenance vehicles.
The only way up the mountain is via the main access gondola, they really need to build a second one, but there didn't seem to be any plans for that as of Dec 2018, the gondola however quickly whisks you up to Bundarishka at 1635m. Here, the best beginner zone can be found on a gentle plateau – there is another small sector in the town, but the snow is more reliable further up. Longer blues are available via the Kolarski Express above Shiligarnika.
For more confident skiers and boarders, the revamped Todorka chair and the two Banderitza quads serve wide, open reds, which are a really good fun first thing in the morning with fresh corduroy. These finish steeply at the foot of the World Cup piste, but apart from that there is little to interest advanced skiers. Some off piste is available, especially if you hire a guide and go ski touring, but thick trees low down and cliffs high up limit the option as does the small scale of the resort.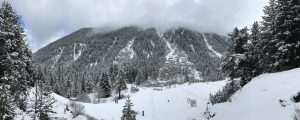 The hotel we stayed in was really good, we had a great choice of foods, there was a good sized in door swimming pool and a treatment centre where you could get the usual selection of options including mens facials etc.
Bansko
I brought my own ski equipment with me, but the kids hired boots, skies and poles, it was surprisingly cheap, it really made me think just how expensive other resorts are by comparison, Meribel and Saas Fee in Switzerland charge many times the price for what is basically the exact same kit.
Whilst on the Gondola we met a group of digital nomads from Australia and New Zealand who were working remotely whilst enjoying the skiing.  I must admit to feeling somewhat jealous of being able to spend all season working remotely whilst skiing as much as possible.   It wasn't an option when I was in my early twenties, though the internet did quickly develop the concept of travelling around the World was more limited then mostly backpacking around.
They did grumble a lot about the time differences but they said the internet speeds etc were fine and they were able to work without any issues, they did seem a good group otherwise!
Anyway it was good to actually meet a group of people like that.
The Old town in Bansko is well worth exploring for some handmade souvenirs. There is an open air ice rink off one of the main streets, which our kids really enjoyed. You can also find a great selection of sports shops around, all with the latest ski/ board gadgets, gear and equipment plus the usual collection of gift shops plus bars and restaurants.
Overall Bansko is a great resort for beginners and intermediates,  and a really cost effective place to take your family.
Over the days around Christmas day itself, Christmas Eve, Christmas day and boxing day, the resort was mostlty empty and there were no queues at all, but this soon changed and the line quickly became an hour or more long.  Best advice is to get up early and beat the queues as otherwise a lot of you day is wasted hanging around.
The ski conditions were very good and I actually really liked the town itself, if you closed your eyes on the way there and opened them in resort your find only minor differences to say Austria or France.  We enjoyed the range of shops and snack bars etc.
Bulgaria Bansko has a reputation of being cheap and cheerful, but my advice is to find a great deal with a high star hotel four or five star (The Kempinski is not cheap however!) close to the slopes and you'll have a great time, in fact for the price you can take an extra summer holidays and still not come to the same cost as an equivalent trip to France or Austria.
We'll be going back for sure!
If you are looking for a new role as an FD or CFO, or you are a company looking for professionals which are not only work focussed, then make sure to reach out to our team at FD Capital Recruitment, we are based in Great Portland Street, and from there we service clients across London and the South East.   We specialise in FD and
CFO Recruitment
, and heading hunting for FD's and
CFO's
Give our team a call on 020 3287 9501 and we can chat about skiing as well as recruiting!Related posts: