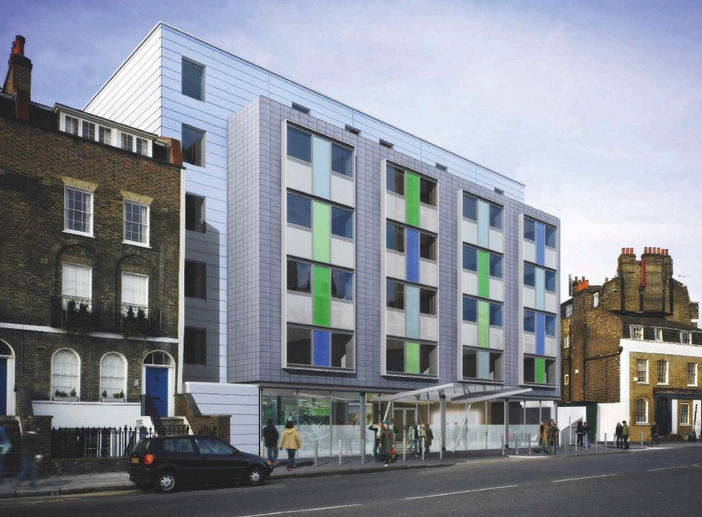 Fund raising for charity
This month we are fund raising for charity our chosen charity this month is a little known London one called Hyelm, which stands for House for young people of limited means, and is aimed at helping young people coming to London for the first time to find somewhere nice to live.
I lived in Hyelm a charity, when they had a campus in Hampstead village back in 1986-1989 it was a great time of my life, meeting new people all of the time from all around the world, I still have friends from that time including Andreas Dittgen a german guy who lives with his wife near to the Swiss border. The organisation actually had challenges finding enough young people that matched its criteria so they took to taking in students, Andy was studying English as a foreign language, and that was ideal for me as I was reading Biology at the time, the standard of accomodation was very similar to my University but the location and diversity of people there made it a much more exciting and interesting place for me to live.
There were a regular contingent of Trinidadian boys and and girls, and for some reason they nearly always studied Accountancy, I used to spend hours in the study room reading my Biology books and gradually got more and more interested in the topics they discussed. I often think back on that time and how it got me interested in Accountancy for the first time, and from there I went on after a year in Australia to start my training as an Articled Clerk. We had a squash court downstairs near to the study room and I used to play often there, with another friend Ian Ferris, who was a great deal better a player than I ever was. Sadly I lost touch with him and his wife Julie, who he also met in Hyelm.
Fund raising for charity

Hyelm owned a mini-bus or had a few over the years I was there, and we organised trips to Europe in them, I even drove most of the way to Berlin, with a bus full of young people, we had such a good time, and Belgium was another great trip. James Gillies and John were other friends, who I also am no longer in touch with. I met a swedish girl in Switzerland whilst on an interrail at the end of my first year at University, and brought her back to stay for a while, I remember she got huge amounts of attention due to her incredible blonde hair.
I have so many good memories of that time, the parties we had, the people I met from all around the World, Australia impressed me and I spent a year after Uni there, even meeting someone from Hyelm by chance walking around Syndey's Darling Harbour area! I remember him now Mark Terrett, we were not such great pals, but it was great luck and chance bumping into someone like that.
Sadly the propery at 79 Fitzjohn's Avenue Hampstead was sold to fund their development in Old Street, the building there is really smart and well equiped, but the area doesn't have anything like the same cultural attraction that Hampstead village does, I don't think their chief executive ever really understood what a special place and experience the charity was for its residents that created. I also think that both locations could have been supported with better financial planning. But that is all in the past, and I am happy to say, That I too have lived in Arcadia, which is what we always said at the charity members meetings.
Anyway back to the reason for the post, we are aiming to raise £500 to help them with their objectives. They are a worthwhile outfit and offer a really friendly and family orientated environment for young people coming to London to study or build their career, a number of students each year always go on to be Accountants and as I have a personal connection with Hyelm, I have choosen this to be my charity for the year.
Fund raising for charity about FD Capital Recruitment – your Finance Director and CFO specialists.
Formed in 2018 FD Capital Recruitment was founded with the objective of becoming a leading provider of Part-Time Finance Directors, our idea being to bring the skills and experience that finance directors have gained in larger corporates and plc's and make them available to SME's on fractional time basis. We have grown and grown and had our busiest year so far in 2020 with some of our team working six days per week. We always support charity work.
About us
We operate across the London and south east and West Midlands areas, our ambition is to grow the business to a national operation. Our team is made up of finance professional and experienced recruiters who between them have an extensive network of FD's and CEO with a strong database of companies we have connections within.
Our FD's are currently based in North London, South London, Crawley, Northampton, Birmingham and Telford, so we can provide coverage from South Cheshire down to Brighton on the South Coast.
London and the South of England
We have FD's and CFO's that cover the London and South East areas.
Our London FD's live in – Hampstead Village, Balham, Battersea and Wembley
The wider South East team are based in Croydon and Crawley.
Which means we can cover all areas within the M25 and the areas around Gatwick and down to Brighton.
We also have a network of experienced professionals to draw upon in other areas of the South East such as Maidstone Kent and Guildford in Surrey.
So if your business is based in London in the South East reach out to us today.
West Midlands and Shropshire

Our West Midlands team cover Shropshire and the areas around Birmingham.
Currently we have FD's in Telford, Wolverhampton and Central Birmingham giving us good coverage from South Cheshire, up to and around Knutsford across Birmingham and down to Droitwich.
If you are a business owner or CEO thinking of recruiting an FD or CFO, then reach out to us today for an initial chat. We can offer a range of options for you:-
Part Time
Full Time
Interim
Specialists within areas such as Turnarounds or Ecommerce.
If you are and FD or CFO based in any of our coverage areas or indeed in the Manchester area we are interested to talk with you, as opportunities are always developing within our customer base.
Since 2021 we now have team members in Oxford, Leeds and Bristol, so we can now more fully support those and their surrounding areas.
You can donate as little as £5 so please help us by supporting this campaign and our other charity works.